Are you missing out on late-night party games and outdoor group activities?
The pandemic has changed our lifestyles in many ways. From remote work culture to online education world has adopted many changes. Even virtual parties are on the trend now. But many people don't get the vibe of the actual parties and games online. So they remain silent and go on mute.
So here is the best virtual party game from Mediaonic to all the party freaks and game enthusiasts.
A new way to party where everyone can engage and play together in a party environment.
Be ready for the ultimate knockout!
The entire game is a perfect party bundle. From exciting challenges to stylish costume packs, you get everything you wish in a virtual party game. This game will stand out and create hype among people. Which makes them remember it for all the entertainment it delivers.
In this massively multiplayer game, up to 60 players can compete in battle royale-style gameplay matches. The game comprises mini-games in which you can play tag with other players. In the final match, the winner is the last player standing. You can dress up your jelly bean figures by purchasing costumes and emotes using in-game currency and show off in front of your friends. Rob Jackson is the lead artist of Fall Guys, who gave the best game art service.
The Fall Guys Co-Op game concept is created by taking inspiration from game shows like Takeshi's Castle, Wipeout, It's a Knockout, and playground games like tag and British Bulldog.
Fall Guys is a series of the game consisting of 4 seasons. Every season has its unique theme and style. Every season, you can find significant improvements. You can also see the hard work that developers had put into enhancing the game's quality. The Tonic Games Group had done rigorous game testing to provide high-quality assurance. Many QA testers were involved in the testing process of Fall guys.
The game's main features of the virtual party game are
Massive online pandemonium
Competitive and cooperative
Comically physical
Delightfully customizable
Fall Guys Ultimate Knockout season 4 got released on March 22nd, 2021. It is Future-themed with a retro-style having lots of neon lights and VHS filters. The game's  season pass got extend from 40 to 50 levels. Some of the other additions like seven futuristic obstacles, new cosmetics, daily challenges, squad mode, and crown shards are cherry on the top for this game.
Sales
This game has got more than 1.5 million active player bases within 24 hours of its release. Due to popularity, Fall Guys Ultimate Knockout servers had unexpectedly overflowed on the first day of its release. The game was the most downloaded monthly PS Plus off all the time on Steam. With more than 7 million copies sold within a month of release. For its chaotic gameplay and visual appearance, Fall Guys received many positive reviews from critics. Top game publisher Devolver Digital specialized in publishing indie games, has published the fall guys. You can buy the game on PS4, STEAM, NINTENDO, and XBOX.
Mediatonic has partnered up with Unity and Multiplay to launch their most ambitious game. To overcome the rash of challenges that come with launching a party game they took this decision. Empowering creators to dream big is Unity's actual motive, so they were proud to support a game that has captured gamers' hearts worldwide.
Awards for the virtual party game

Fall Guys had won the best multiplayer and best family game in Golden Joystick 2020 awards. It also won the best community support award in The Gaming Awards 2020. The game grabbed the prize in the best independent game – platinum. It also got the best multiplayer game – gold in PlayStation Blog Game of the Year 2020 awards. Fall Guys got nominated in many other categories for prestigious awards. With all the achievements and success, the game was in the limelight. Epic Games, the creator of Fortnite, has acquired Mediatonic on March 02nd,2021.
With massive game popularity, many brands came forward to collaborate for custom content. After a short period of release, Mediatonic started a fundraiser program for all the brands. The brand that donates most of the money to the charity Special Effect will have a chance to customize skin in the game. Through this bidding contest, the company raised one million for charity. The donation was a collaborative effort between YouTuber Mr. Beast, gaming streamer Ninja, G2 Esports, and Aim Lab.
Say goodbye to boring online meetups and sleepy virtual events.
Gather your friends, family, colleagues and make your next party fun-filled and exciting with this virtual party game.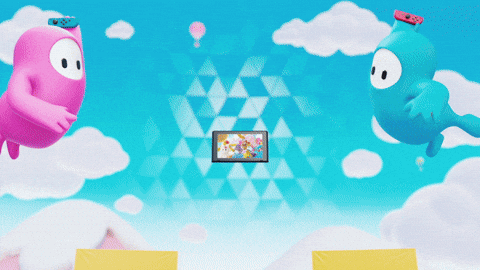 Play the ultimate knockout and be the last Fall Guy standing.